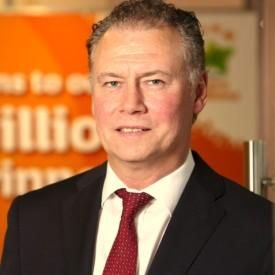 Dermot Griffin
Board Director
,
Irish National Lottery and EuroMillions Group
After graduating from UCD with a Bachelor of Commerce degree, Dermot commenced his career with KPMG Chartered Accountants. In 1990 Dermot joined Eircom and was subsequently appointed Finance Director of eircell in 1993 during a period of rapid growth and innovation in the mobile phone industry.
In 2001 he was appointed Commercial Director of Vodafone Ireland. Dermot joined the National Lottery in 2005. He has been responsible for leading a fundamental change programme at the National Lottery. He recently led the successful transition process in the National Lottery to move from public to private ownership. In addition to the National Lottery, Dermot is a Board Director of the successful EuroMillions Group and he is on the Dublin Chamber Council.